Emergency Preparedness
The term refers to the steps you take to make sure you are safe before, during and after an emergency or natural disaster. These plans are important for your safety in both natural disasters and man-made disasters. (https://www.fema.gov/)
There are 5 categories of emergency preparedness and response: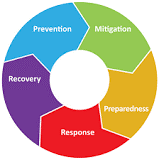 Prevention, mitigation, preparedness, response and recovery are the five steps of Emergency Management.
Prevention. Actions taken to avoid an incident.
Mitigation. Measures that prevent an emergency.
Preparedness. Activities to increase a community's ability to respond when a disaster occurs.
Response. Actions carried out immediately before, during, and after a hazard impact.
Recovery. Actions to return a community to normal or near-normal.
UCOA Policy Position:
Every Utahn will take personal responsibility to have an emergency plan and be familiar with the federal and state resources to prepare for and respond to emergencies.
Resources
Research and Education
Content Coming Soon...
Public Policy
Content Coming Soon...