Restaurants: Closed. Museums: Closed. Theaters: Closed.
Mother Nature: Wide Open.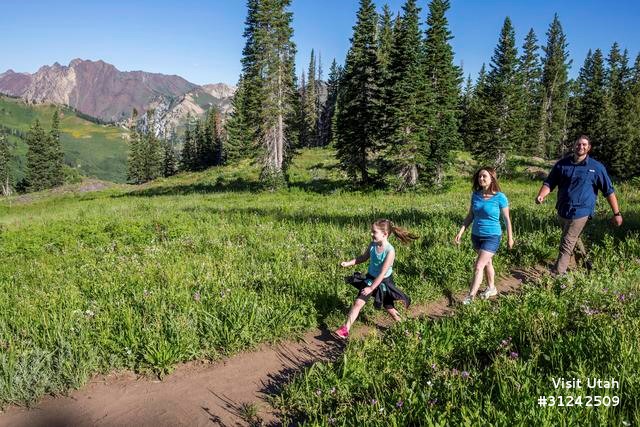 Social distancing in the great outdoors comes naturally.
Utah's enlightened state government has an entire office dedicated to having fun outdoors. It's known as the Utah Office of Outdoor Recreation. It's mission is "To ensure that Utahns can live a healthy and active lifestyle through outdoor recreation."
Not coincidentally, my mission is to encourage and inspire everyone to go outside and play their way to good health.
How appropriate that this post is about the state agency and it's programs intended to keep the wide-open spaces wide open and accessible to everyone.
Outdoor recreation is big business in Utah. It contributes more than $12.3B to the economy, employs more than 110,000 people and is the primary driver behind the tourism industry.
Not only does Utah outdoor recreation create $737 million in state and local tax revenues, it is the reason for $3.9B in wages and salaries.
Governor Herbert created the office in 2013 as a result of the large contribution the industry plays in Utah's economy. It is the first office of its kind in the country.
The office aims to establish a nationwide recreation management standard and ensure that the state's natural assets can sustain economic growth for years to come.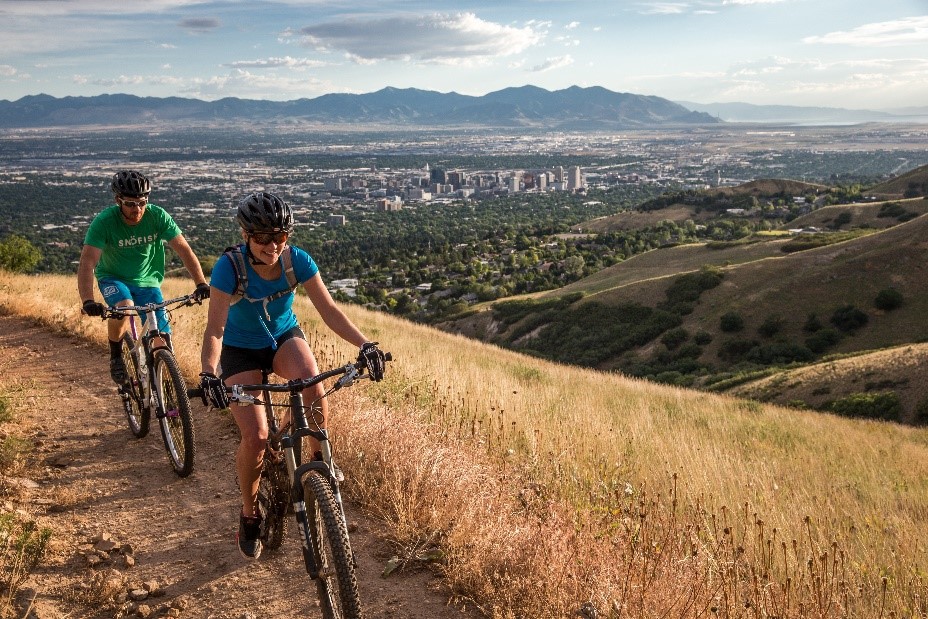 Biking trails like the Bonneville Shoreline are right on our doorstep.
That's great news for those of us who live here, because it means we'll have a robust and varied recreational landscape for many years to come. For visitors, it means Utah can deliver on the promise of a once in a lifetime recreational experience.
The office achieves its goals by partnering with Utah's outdoor recreation businesses for annual events like the annual Utah Outdoor Recreation Summit, and by providing grants for recreation area infrastructure, trail improvements and facility enhancements. There are programs aimed specifically at Utah's children, like Every Kid Outdoors (EKO), an initiative promoting a healthy active lifestyle for our youth and encouraging them to spend more time in the outdoors engaging in activities that will benefit their physical and emotional well-being.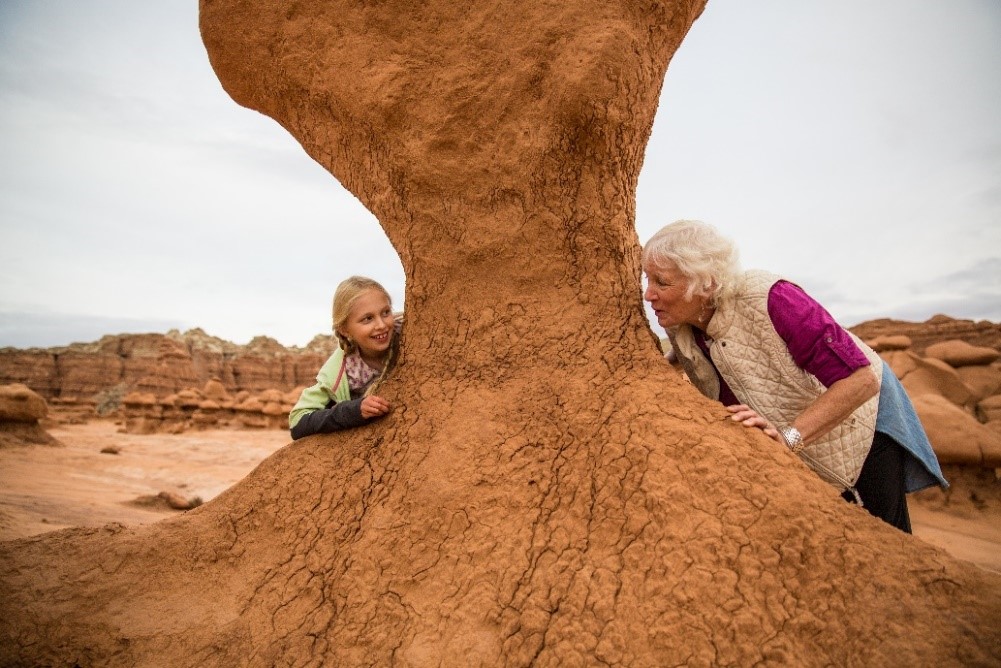 Getting children outdoors contributes to a healthier, happier life.
The Utah Children's Outdoor Recreation and Education (UCORE) grant pays for programming that provides Utah's children age 6 to 18 with outdoor recreation skill-building and nature-focused, hands-on learning.
The Utah Outdoor Recreation Grant was created to help Utah communities build recreational infrastructure that provides low-cost opportunities to be active outdoors. New trails and other outdoor recreational opportunities aid in local economic development, while adding to quality of life for residents.
According to UOOR Program Manager Tara McKee, grant projects range across the state.
"While we don't build infrastructure ourselves, we have awarded funds to help with 155 outdoor recreation projects across the state in places as diverse as Helper, with the revitalization of a neglected river that had old cars and even a house pushed into it," she said.
"They were all pulled out and stone slabs were placed to access the river. Now people can fish, and kids can wade in the river. The next step will be extending the river revitalization above the town and redoing the trail."
Another project closer to the Wasatch Front is a new mixed-use paved trail in southern Salt Lake County. The new White City Canal Trail will eventually form a north-south connection winding its way from 9400 South at Big Bear Park, 930 E. Onyx Lane in Sandy, to the Sandy Canal Trail at 10600 South. The project will include a 347-foot pedestrian bridge crossing Dimple Dell Regional Park. "Through UOOR matching grants, we have been able to turn many old canals into accessible trails," she said.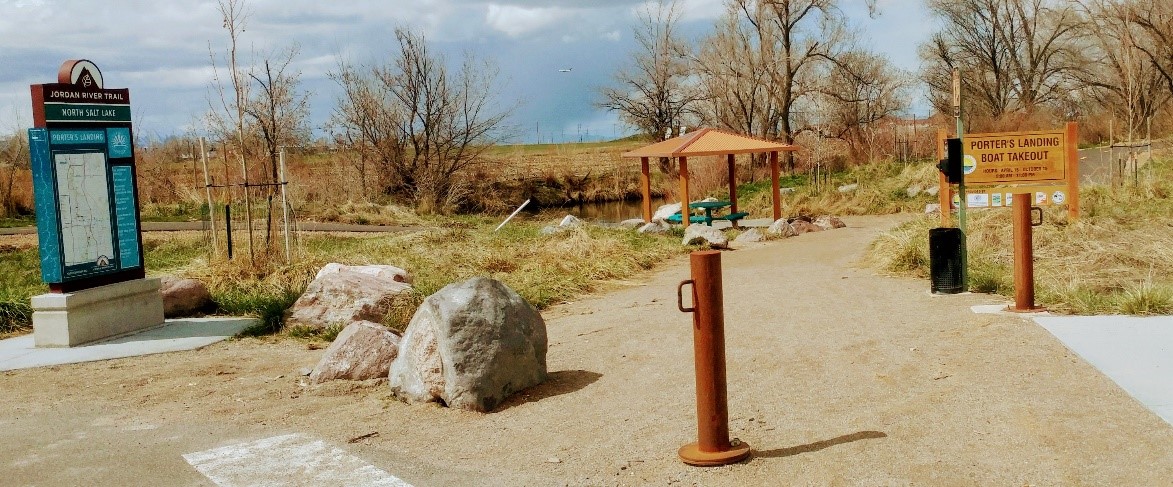 Porter's Landing on the Jordan River is a UOOR funded project that enhances recreation amenities.
Establishing and improving water trails like the Jordan River are further examples of UOOR funded projects. Porter's Landing, a boat ramp with a kiosk, shaded table and signage, was recently completed near the North Salt Lake trailhead of the Legacy Parkway. A paved trail now intersects with the boat ramp, making it a true multi-use recreational asset.
Vernal also has a new amenity in the Old Fort Ponds Community Fishery, which opened to the public last summer. Check out the video of the new facility here.
According to McKee, there are many opportunities for enhancing recreational experiences across the state. "For example," she said, "on the Green River near Flaming Gorge, there are opportunities to provide campgrounds along the river where you could paddle in, camp, and follow John Wesley Powell's historical trip down the river."
Now, more than ever, Mother Nature's great outdoors can help provide escape, recreation and a healthy lifestyle despite the pandemic crashing down upon us. Thanks to the Utah Office of Outdoor Recreation, we can rest assured that those outdoor spaces will be open, accessible and appealing to everyone.
Find a park near you.
If you're looking for a nearby park where you can get out, breathe some fresh air and take a walk, check out Parks RX, a park locator website developed by healthcare professionals.