Christmas Train Wreck.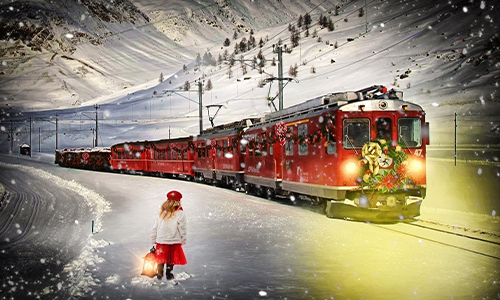 A true story of Christmas past.
Christmas morning, 1958. It was still dark outside. I was huddled in the kitchen with my three siblings--Terri, age fourteen; Michelle, age ten; and toddler Steve, who was two. I was eight. The excitement was palpable. You could taste it, all warm and sweet like the cinnamon rolls sitting on the counter. We were minutes away from that magical moment we had anticipated for months, when we would enter the wonderland that was normally our living room to see what Santa had brought us.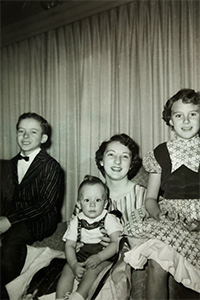 Christmas morning in our house was the culmination of a grand celebration that went on for months. My grandmother owned a women's clothing store in town, so the holiday shopping started in early November and continued through the New Year. There was no holding back when it came to gift giving or getting. Shopping just seemed to fit in nicely with all the other Christmas traditions. While our family was not wealthy, we did enjoy a comfortable lifestyle. My father was a dentist, and my mother was a hair stylist who also helped manage my grandfather's beauty salon and my grandmother's clothing store. Small business was a family tradition.
The Wassom kids circa 1957, L to R, Bobby, Steven, Terri and Michelle.
The comfortable standard of living we enjoyed expanded to extravagance when Christmas rolled around, with a whole lot of gift giving and downright doting on the kids by Santa Claus, parents and grandparents.
As always, Christmas morning was a highly choreographed event that rivaled a Hollywood movie. My grandfather was a camera buff intent on adding every family event to his extensive library of home movies. His state-of-the-art movie camera-- a Bell and Howell Super 8 with a wind-up motor--was always ready to roll film. He supplemented the camera with a high-power light bar that featured four floodlights for proper lighting.
The family living room was the setting for Christmas morning carnage, which always began before dawn. No one was allowed to enter Santa's Wonderland until the grandparents had arrived from next door and Grandpa Gus had time to scout the location, strategically positioning himself in the living room to record the grand entrance of all the kids.
To appreciate the importance of this event, you have to visualize the living room after Santa had visited on Christmas Eve. The Christmas tree, elaborately decorated and laden with lights, would be adorned with a handwritten sign denoting the year. Surrounding the tree to a depth of about three feet was a sea of Christmas gifts in brightly wrapped boxes. But that was just the beginning. In four distinctly separate areas of the room, each child had his or her personal gift area, where selected gifts were displayed with grandeur that would have made FAO Schwarz envious.
Depending upon the year and the Christmas wish list, the booty would range from bicycles to record players, with a lot of clothes in the girls' areas, and airplanes, trains and toy cars in the boys' corners. I always asked for a gas-powered airplane, which was usually good for one flight before the inevitable crash.
Finally the moment was here. Grandma and Grandpa had arrived from next door and Grandpa Gus was ready to stake out his vantage point in the living room. We had to wait just a few minutes longer, while he preceded us into the living room to shoot a few scenes before the celebration began.
"Okay," Grandpa said, "You can come in now."
Toddler Steven, "T-T" as he was called, led the pajama clad entourage as we walked into the ethereal glow of Grandpa's movie lights. There was no rushing about. This was a moment to savor. Four sets of eyes scanned the room, looking for their special place.
There between the grand piano and the gold sofa was mine. I could tell it was mine, because circling the piano bench was a beautifully crafted electric train on an oval shaped track. This was not just any run of the mill electric train, but a finely detailed HO scale train. HO scale trains were half the size of the more prevalent O scale trains, featuring fine workmanship and delicate details. Grandpa Gus was a model train buff and I had spent many hours sharing the joy of his trains. Now I had my own.
With my gaze fixed upon my new prize, I could hear the collective squeals of delight as my siblings discovered their own priceless treasures. But I was not to be distracted as I lovingly examined the handiwork of the yellow locomotive pulling a variety of boxcars, flatcars and of course a beautiful red caboose. I marveled at the tiny ladder climbing up the back of the caboose, and the perfectly formed windows on the engine. It looked so real in its miniature magnificence. If I laid flat on the floor with my chin next to the tracks, I could imagine it was a real train coming round the bend.
Surrounding me, the Christmas pandemonium had begun. "Look, new Head skis," Terri said, holding the state-of-the-art shiny black metal skis aloft. Michelle was parading about in a new red parka, while Steve had a Lincoln Log house in the works. Dad, Mom, Grandma and Grandpa settled in to enjoy the culmination of months of whispers, secret shopping trips and hidden treasures.
Outside, darkness retreated as Christmas morning raced by. Squeals of delight came in waves as the pile of wrapping paper grew in direct proportion to the shrinking sea of gifts. "Breakfast is ready," Mom said. Christmas breakfast, buffet style, awaited in the kitchen breakfast nook. It was time for a break, so Terri, Michelle and I made our way to Mom's special egg casserole and homemade cinnamon rolls. This was not a morning when cereal and milk would do. We would need the extra nutrition to finish the Christmas treasure hunt.
After a second helping of casserole washed down with hot cocoa, I made my way back into what looked like Santa's workshop under siege. I carefully tiptoed through the sweaters, shoes, skis, toys, perfume, necklaces, Lincoln Logs and dart boards on my way to my special train. What I saw next sent an electric shock down the back of my neck, effectively canceling my ability to breathe.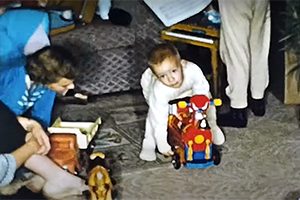 There, in the middle of what had been my oval train track sat two-year-old Steven, intently trying to shove the end of one length of track through the windows of the caboose. Around him, in various states of destruction lay what was left of the rest of my finely crafted HO train. As he saw me, he gleefully held up the mangled caboose and proudly exclaimed, "Choo Choo!"
One year old "T-T", the baby-faced train-wrecker, the year before his wanton attack on my train.
At that moment, my sweet-faced little brother looked to me like the devil child from hell. I swear he had fangs and long sharp claws dripping with blood. My beloved HO train was demolished, in pieces and scattered from piano to front door. He had done this to me. There could be no forgiveness. I would hate him forever. There was nothing more important in the world than my HO train.
After a grief-stricken tantrum and hours of sulking followed by an ample dose of self-pity and martyrdom, I began to forgive my little brother and went on to enjoy the rest of my Christmas bounty of new ski boots, Steve Canyon jet helmet, electric football game, et al. The finely crafted HO train was also replaced on a special trip to the train store on the second largest shopping day of the year…the day after Christmas 1958. All was well. The Holiday Season could continue.