Let's Welcome the World to Utah. Carefully.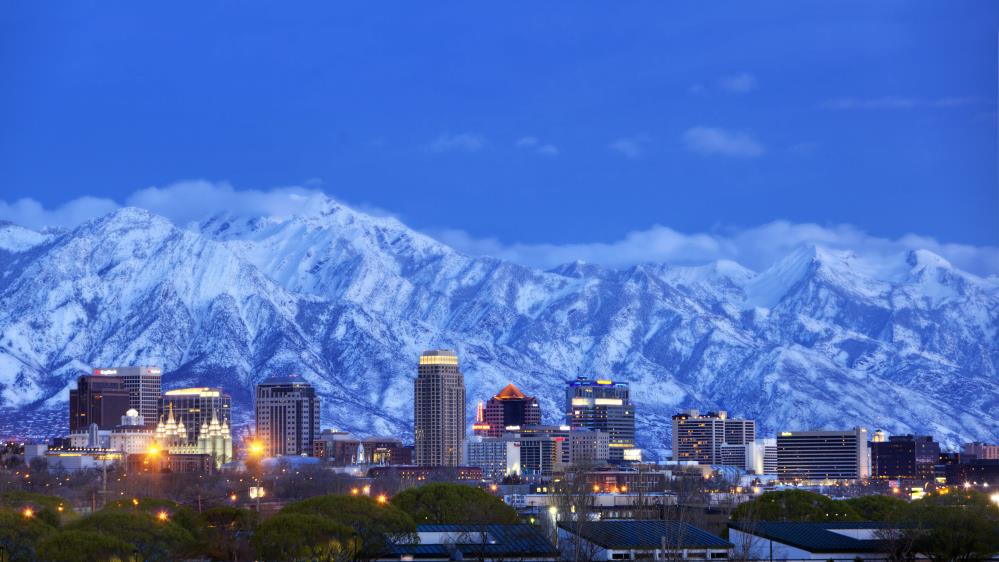 Photo Credit: Utah Office of Tourism/Derek Smith
On the heels of the big NBA Allstar Weekend, it seems appropriate to address a love/hate relationship I have with tourism. Hate is a bit strong. It's mostly a love affair, but there's another side that I can't ignore. To begin with, I've been involved in promoting travel to our state since the late 70's when I was in the advertising agency world.
One of our key accounts was the Utah Office of Tourism. I was privileged to work on this prestigious account, spreading the word about Utah's mind-boggling array of accessible outdoor recreation, from skiing and boarding in our mountains to river running, hiking and mountain biking in our red rock canyons.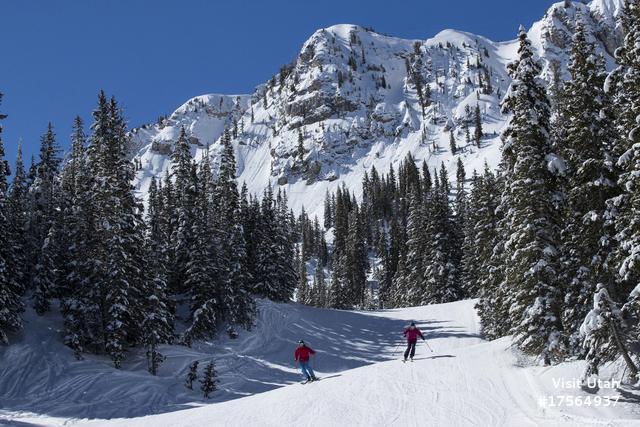 Solitude's Honeycomb Canyon is one of Utah's Hidden Gems.
I also got to work on the campaign to bring the 2002 Olympic Winter Games to Salt Lake City, an adrenaline rush I'll never forget. Seeing Salt Lake City come to life as an international destination during the games was a thrill.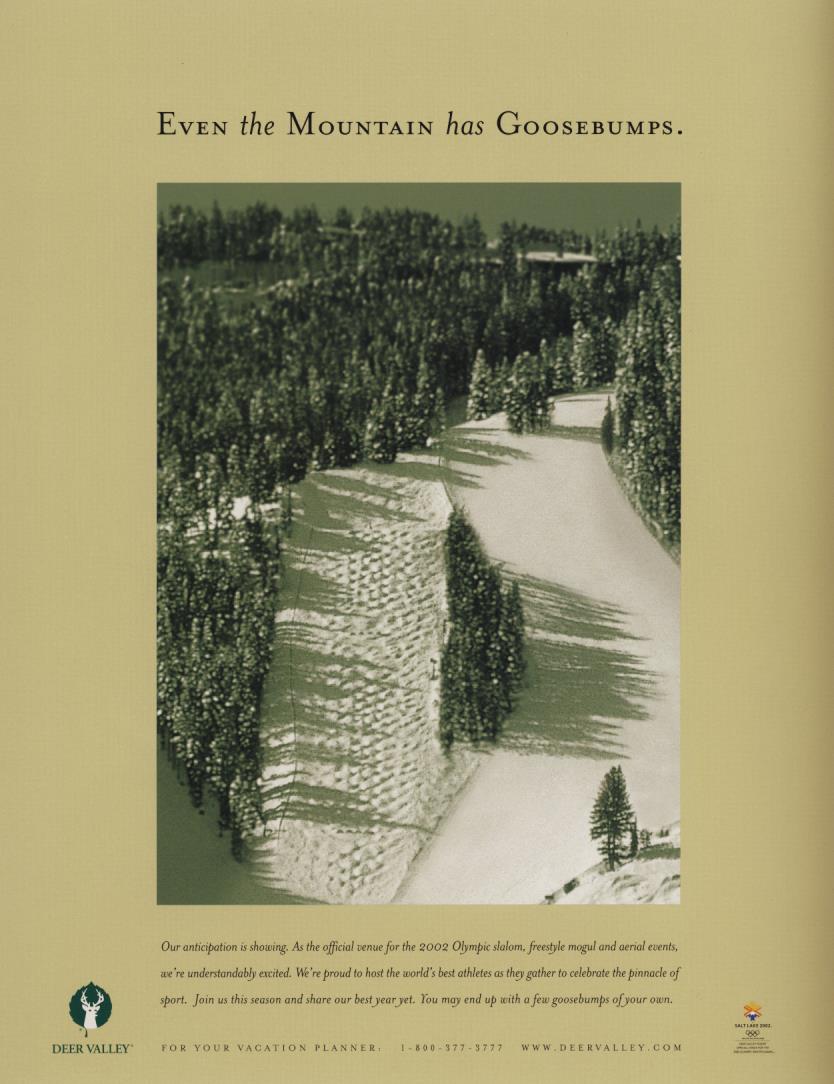 A Pre-Olympic ad I wrote for Deer Valley Resort.
I loved having the opportunity to tell people about the wonderous landscapes and the life changing experiences awaiting them on a vacation to Utah. Nowhere in the world can you find such a diverse combination of alpine mountains, red rock deserts and five stunning National Parks, all accessible in one vacation.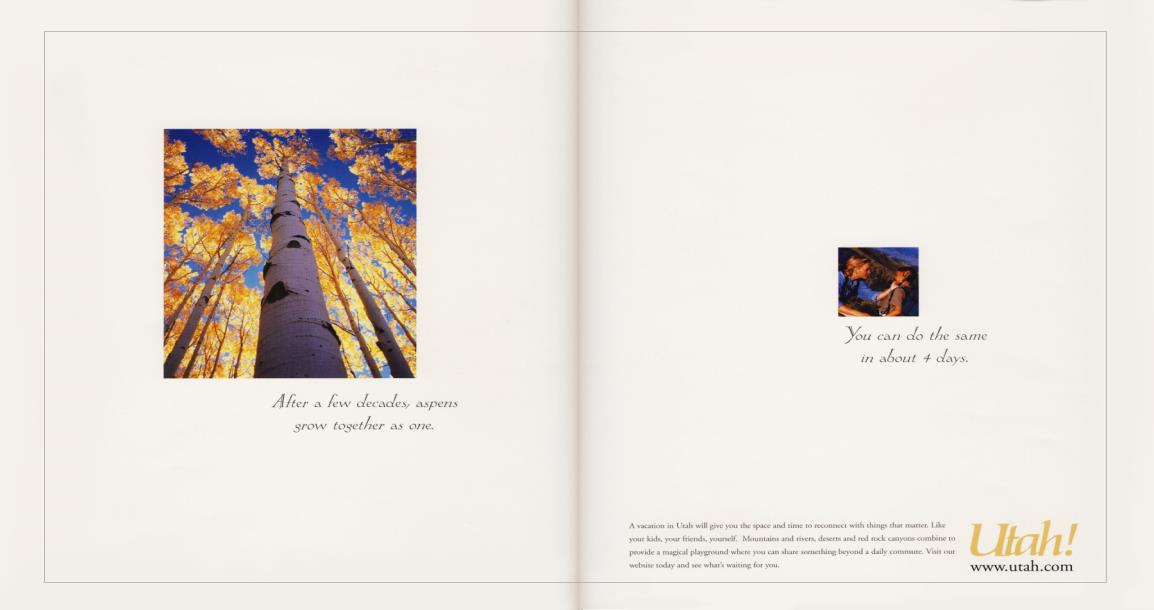 An ad promising a life-changing vacation in four days.
Personally, I fell in love with Lake Powell and had the opportunity to write for ARAMARK, who ran the marinas and hotels at the lake. I know how controversial the lake is, having covered up hundreds of pristine canyons. I am also appalled at how the lake was trashed by so many irresponsible people who dumped everything in the lake from diapers to boat batteries. I was sickened when I saw beautiful canyons closed due to polluted water caused by human waste.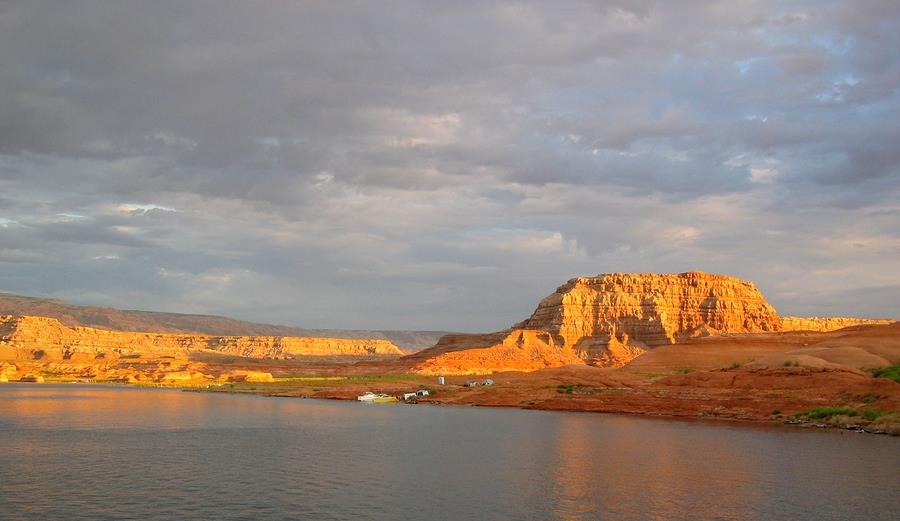 A Lake Powell sunrise is an unforgettable event.
Now, with the current drought, the future of Lake Powell is in doubt, with talk of draining it. I know many outdoor purists would love to see the lake go away, restoring the remote canyons to their original
state. But for someone like me who lives with a disability, natural wonders like Rainbow Bridge or Cathedral in the Desert are inaccessible without a boat or motorized vehicle.
We kept a boat at Lake Powell for many years and had some amazing family vacations that we'll never forget. But the times they are a changin'.
Without question, tourism is a huge part of Utah's economy. According to Utah Office of Tourism metrics, in 2021 Utah visitors spent $10.56 billion, which supported 130,600 jobs, resulting in $1.81 billion in state and local tax revenue, with an estimated tax benefit equivalent of $1647 per household.
That's a lot of economic benefit. But what's the cost? Overcrowding, traffic, irreparable damage to our precious landscapes? I don't mind sharing our treasures with the world. I just don't want to be excluded from the playground I grew up on due to hordes of visitors.
I remember riding the Park City gondola with my grandpa in 1963 when it was called Treasure Mountain. It was the only lift. Now Park City is a megalopolis in the mountains, and the resort is owned by Colorado based Vail Resorts. Hmmm. Not sure how that feels.
It's no secret that Wasatch Front resorts all suffer from parkingitis. Nowadays, you have to make a reservation or ride the bus. Before long, getting up Little Cottonwood Canyon will be mass transit or gondola. I'm a gondola fan. I just think it's a cleaner, more efficient solution. They work well in Europe. Sorry rock climbers. Plus, I think it would be cool to ride, and it eliminates avalanche dangers.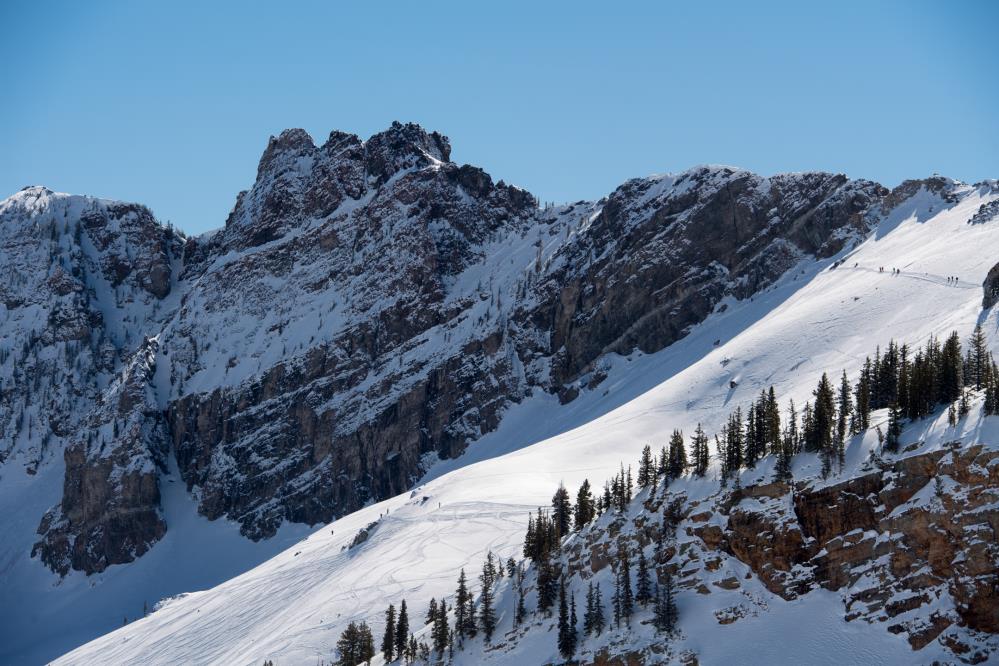 Little Cottonwood Canyon's Alta requires paid parking reservations.
Traffic problems aren't just a Wasatch Front problem either. Have you been to Moab on a busy spring weekend? Or Arches National Park? My last visit to Arches was jaw dropping and not because of the natural arches. The line of cars waiting to get in was disheartening. Fortunately, there's a reservation system now in use, requiring a timed reservation from April 1 to October 31. I hope it works.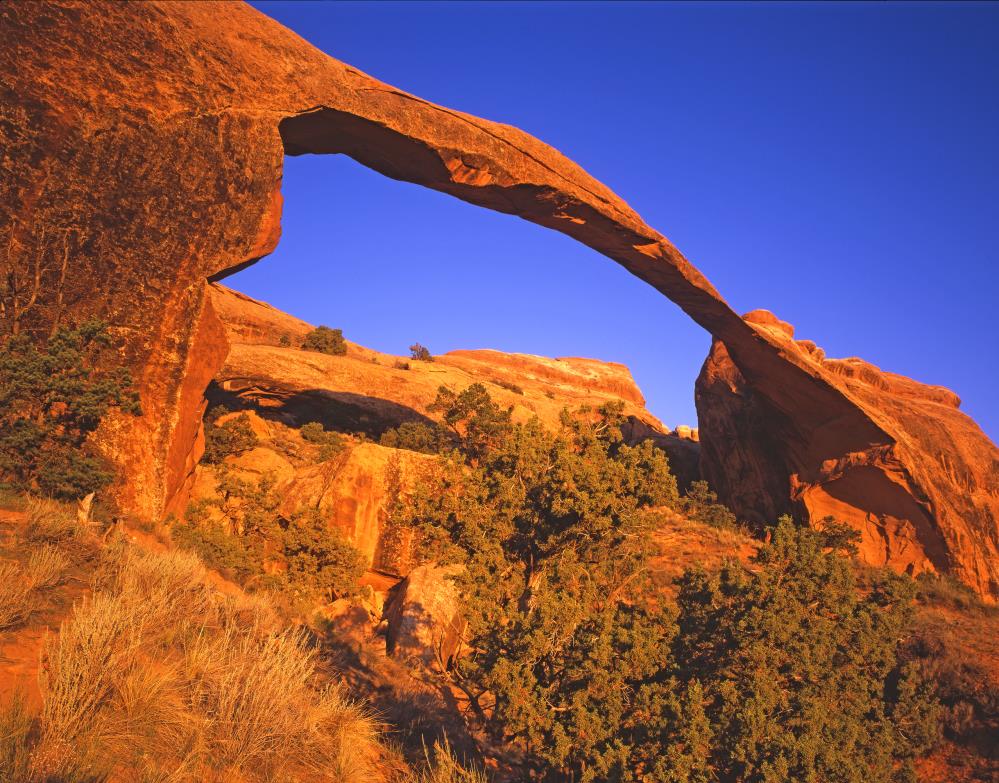 Landscape Arch is a people and a car magnet
The other side of this equation is taking care of the fragile, irreplaceable natural resources we have. That means educating our guests (and ourselves) about how to explore, experience and enjoy our state without damaging the landscape and its delicate features.
That's where Leave No Trace comes into play. For over 25 years, the Leave No Trace organization has been working to educate and inform everyone who spends time outside about key practices for responsible recreation.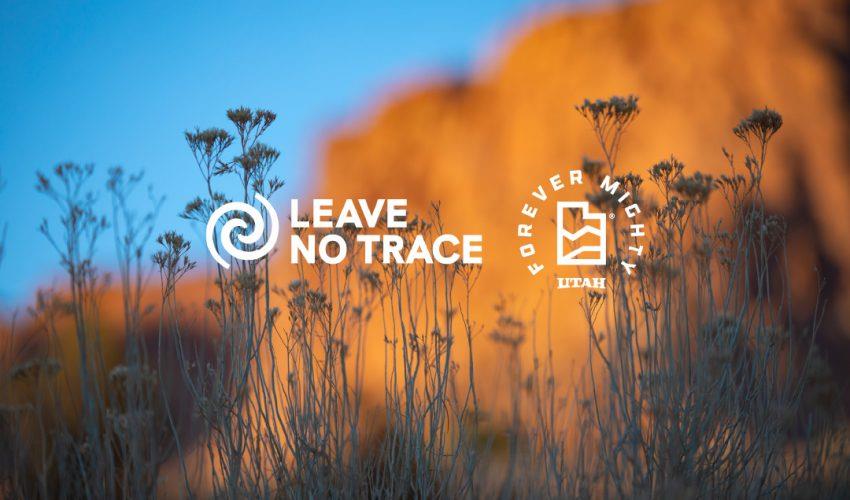 It means things like watching where you're tramping, hauling out your trash, preventing forest fires keeping wildlife wild, and other simple yet important ways of respecting Mother Earth. Click on the link above to access the industry toolkit that lays out the program in detail.
Okay, so the cat's out of the bag. Utah is a bucket list destination. We may even be hosting another Olympic Winter Games. We (meaning I) should accept that fact and be informed, interested and active in how we welcome and manage the millions of tourists eager to come look, have fun and leave piles of money behind. I for one hope that after they leave their money that they also go home. We're growing fast enough.