Can you really get Faster, Better, Stronger, at any Age?
Yes, you can and there are many ways to get there. A quick search on the internet will turn up countless ways to go at it.
My bike has been one of the ways I stay active. With my spinal cord injury, I don't walk well, so running isn't an option. But I can ride, and now with my new recumbent E- trike, I can keep riding in spite of my age and deteriorating spinal cord.
I was fortunate a few years back to discover the sports training secrets of five-time 1980 Olympic Gold Medalist Eric Heiden, and Massimo "Max" Testa, the legendary trainer of elite Tour de France cyclists.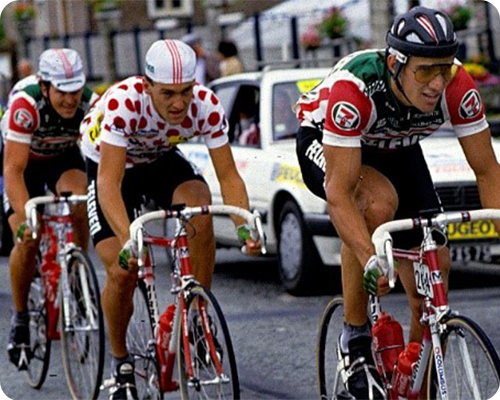 Eric Heiden joined the 7-11 cycling team in 1984
The two first came together four years after the 1980 Olympics, when Heiden, then USA Cycling Champion, joined the 7-Eleven professional cycling team for whom Testa was the team physician.
Three and a half decades later they collaborated as physicians on a modern fitness program for those who want to learn the scientific truth about staying in excellent health.
My knowledge came by way of an autographed copy of their book, Faster Better Stronger.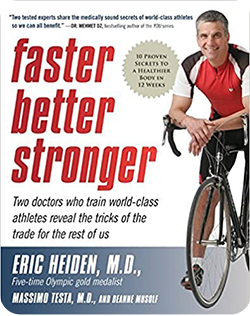 In the book, these two tested experts share the medically sound secrets of training world class athletes so we can all benefit.
What's more, Dr. Heiden and Dr. Testa are now Utah residents that you can access. In terms of good health and athletic performance, it just doesn't get any better.
A personal example: I arranged with Dr. Testa for a bike fitting and in the process, he determined that my one-year old bike frame was too small. He accompanied me to Contender Bicycles, who had sold me the bike, and they agreed to switch me to a larger frame at no cost. Needless to say, I'm a huge fan of Dr. Testa and Contender for their help.
I subsequently visited Dr. Heiden for an evaluation of my damaged right knee, which I had injured years before in a motorcycle crash. He was thorough and super friendly and extremely helpful. And just slightly charismatic, I might add. I think that part comes naturally.
As for the book, it's a complete package. It's divided into two parts. Part 1 is the how and why, where you set goals, learn how to maximize your training, explore strength training, cross training, motivation and more.
There are also great tips and asides from Testa and Heiden as they bring their hands-on experience to bear.
Part 2 is the program, with assessments, daily routines, charts to measure your progress, specific nutritional guidelines, and milestone checks. It's a foolproof system. There's no guesswork here. No wasted time or effort.
BMC cycling team doctors Max Testa, Eric Heiden and Scott Major
The book is great for beginners to experts, and any age. Twelve years after it's initial printing, it's still super relevant and a great read to boot. And it's not just for cyclists.
Yes, there are a lot of free training tips and nutritional guidelines on the internet. Some of my favorite websites include Livestrong.com, Silver Sneakers and Clean Plates.
But I love books, and for getting fit and healthy, this is as good as it gets. What's more, books are portable, they don't have to be charged up or plugged in and they're easy to operate. Once again simplicity triumphs.