Nordic Skiing and Snowshoeing
Two surefire ways to have some fun in the snow and beat the winter blues.
Remember when you were a kid and with the first snowfall you couldn't wait to get the snowsuit on, complete with the mittens-on-a-string? You made a snowman, snow cave, or went sleigh riding on the nearest hill. Perhaps it was just a snow angel on your mind, and down you went, arms and legs waving back and forth. Regardless, you were out there running, jumping, laughing and having fun.
But now you say you're too old for the cold? Nonsense. (First off, if you're a skier, stop reading and get to the mountain! There's epic snow waiting for you.) Not a skier? Too expensive and the body won't cooperate? Then how about cross-country skiing or snowshoeing? They're both low impact and lower cost options that anybody can enjoy. They're safe, easy on the body and great exercise. Plus, here's a bonus: you don't get cold, because you're in constant motion.
The winter playground is close and accessible.
Along the Wasatch Front, we're fortunate to have several well-developed venues for Nordic skiing and snowshoeing. My favorite might be The Solitude Nordic Center, which is actually located at Silver Lake next to Brighton, up Big Cottonwood Canyon. It's amazingly accessible, unbelievably scenic and perfect for everyone from rank beginners to experts.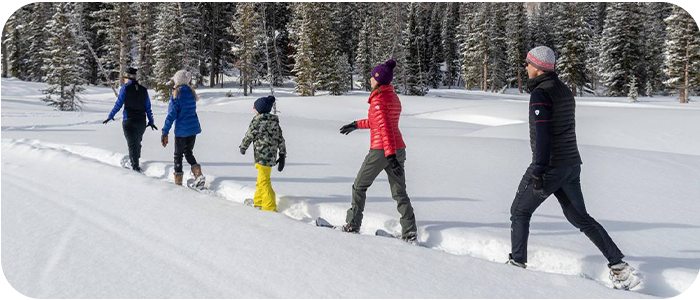 Snowshoeing at Solitude Nordic Center is a family affair.
Right outside the door of the small rental shop is a perfectly groomed and flat practice loop that goes around Silver Lake and is surrounded by Brighton's lofty peaks. It's spectacular. There are lessons available onsite, and rentals of both Nordic ski equipment and snowshoes. In addition to 20 kilometers of groomed cross-country track, there's also a well-marked snowshoe trail. For rates and rental availability, check out the Solitude Nordic Center website.
There's even heated underground parking.
Another excellent option for Nordic skiing is White Pine Touring at Park City. It's on the Park City golf course and is a perfect setting for superb cross-country skiing. It even has underground heated parking at Hotel Park City. There's a top-notch ski shop with rentals, lessons, and skiing and snowshoe tours available. It features 20+ kilometers of groomed track, with 3k, 5k and 10k+ loops available. Check out the website link for rates and hours.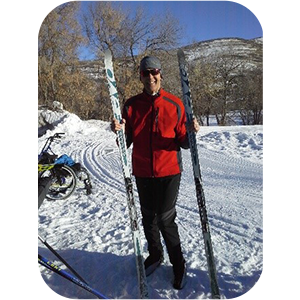 The closest venue to Salt Lake City is Mountain Dell ski area. It's on the Mountain Dell Golf Course and is operated by The Utah Nordic Alliance (TUNA). TUNA is a ski club that promotes cross-country skiing in Salt Lake City and northern Utah. The club's main activities are centered on cross-country skiing and racing, with junior race programs, year-round training programs for all ages, trail grooming, and a race series. Recreational aspects are maintained with the club's yurt in the Uinta Mountains, family ski-tours, and a social program.
Bob Wassom escaping the inversion at Mt. Dell (left).
Try an Olympic venue.
Continue up I-80 and Highway 40 and you'll find Soldier Hollow next to Midway in the Heber Valley. This was the site of the 2002 Olympic Nordic events. Here, you can test your stride on 31 kilometers of classic and skating trails and biathlon range. For non-skiers, there's also a snowshoe trail and tubing hill. It was named one of the best four Nordic resorts in America by Outside Magazine. Check out the Soldier Hollow website for rates, rentals and schedules.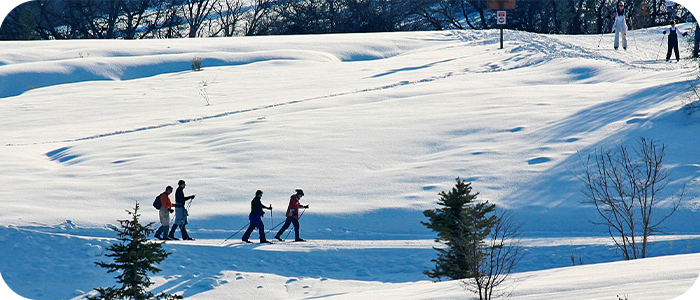 Cross-country skiing at Soldier Hollow.
A little further north, up Ogden Canyon, is North Fork Park. Here you'll find 20 kilometers of trails groomed six times per week for classic and skate skiing, as well as snowshoe trails. There's also a Nordic center with hot drinks, trail maps and rentals. Visit their website for a complete schedule and rates.
Way up north in Logan you'll find cross-country skiing and snowshoeing in the Wasatch-Cache National Forest. There are routes for all levels of experience. Beginner areas are in Sink Hollow, at the entrance of Beaver Mountain Ski Resort, and at Sunrise Campground on U.S. Hwy. 89, which overlooks Bear Lake and is near the Logan Canyon summit. A groomed track in Green Canyon offers excellent skiing just minutes from downtown Logan. For specific information on conditions and trails, you can contact the Logan Ranger District (435) 755-3620.
Head south for an unforgettable tour.
If you don't mind a bit of a drive, you'll find spectacular cross country and snowshoe trails in Utah's southern red rock country. The visual feast of glistening white snow frosting red rock walls and spires is not to be missed. Throw in piercing blue skies and you have red, white and blue taken to an ethereal level. You'll be breathless without taking a stride. Bryce Canyon offers 30 km of groomed trails right inside the park, with rentals available at Ruby's Inn.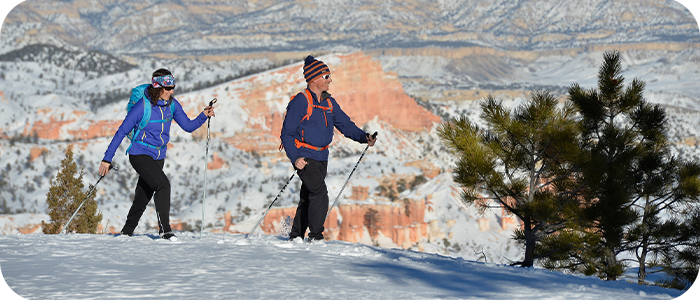 Cross-country skiing between Inspiration point and Sunset Point in Bryce Canyon National park (Photo courtsey of Utah Office of Tourism).
Get out there and feel young.
The bottom line is this: You don't need to be an intrepid winter explorer to get outside and have fun in The Greatest Snow on EarthTM. You can rent a pair of cross-country skis or snowshoes for the afternoon at REI or just about any sports store and go tromp around in the snow somewhere. My first shot at cross country skiing was in a neighbor's empty field next door. It was fun, exhilarating and I was hooked.
For a complete listing of great snowshoe trails in Utah, visit Snowshoeutah.com, Utah.com/ski/snowshoeing or visit the Utah Office of Tourism website.
Then, as Nike says, "Just Do It." Get out there and feel young.