A New Way to Slide Down the Mountain
What do you get when you put two skis on a bike? A lot of fun.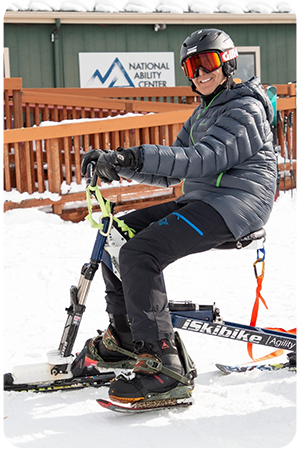 Seeing as how Mother Nature is still laying down epic amounts of The Greatest Snow on Earth TM it seems appropriate to write about a topic near and dear to my heart: downhill skiing. I was a ski instructor before I was paralyzed from a diving accident. I was fortunate to recover enough to get back to skiing, but now that I'm getting older, I'm losing strength and balance. I don't ski standing up on two skis anymore. But I can still enjoy the adrenaline rush of putting gravity to work on a nicely groomed slope. I just do it on an adaptive ski bike.
Bob Wassom on the "iskibike Agility 1.3"
It's basically a full suspension bicycle frame with two skis mounted where the two wheels would be. It has a pop-up seat that accommodates getting on a chairlift while you're still on the bike, and instead of putting your feet on pedals, there are short outrigger skis mounted on your feet that slide alongside for a bit of extra balance.
It's simple and non-intimidating with a fast learning curve. Turning is deceptively simple. Subtle hip shift to the right and a left turn ensues. Hip shift to the left and you turn right.
The bike is an iSkibike Agility 1.3, designed and manufactured in Montana. It's the brainchild of Robert Kolesar, who designed the bike to help his wife ski again after a serious head injury from a hiking accident weakened her left side. It's also appropriate for able bodied skiers who might have knee problems, a weak back or other age-related issues. I can attest to the fact that the ski bike experience has all the adrenalin rush and fun of stand-up skiing, because I've done both.
Putting gravity to good use at Park City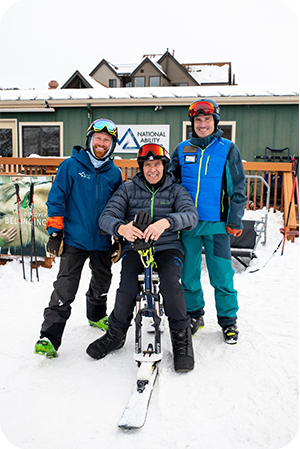 Currently there's only one iSkibike available for use right now in Utah. It's in Park City at the National Ability Center. Word has it that there will also be one available soon at Snowbird through Wasatch Adaptive Sports. I expect that soon there will be more of these wonderful adaptive machines available at other area resorts. They are just too good to be ignored. There are people like me, and others who might be less than able bodied, who want to go play in the snow. It's called adaptive recreation and it's a growing market segment. It's being fueled in part by those of us called "aging." But isn't that everyone?
Bob Wassom with instructor Jared Dangerfield (left) and volunteer Stephen Wilke.
You don't have to give up on having fun outdoors. There's a way to do it, no matter the challenge. Perhaps, like me, you'd just like to buy your own iSkibike and go for it. Bob Kolesar will give you a 20% discount—it even says so on his website. Check it out here. You can get some lessons from the National Ability Center, then hit the slopes at Park City, Snowbasin, Brighton, Powder Mountain or Solitude. They all welcome adaptive skiers.