Celebrate the Change of Seasons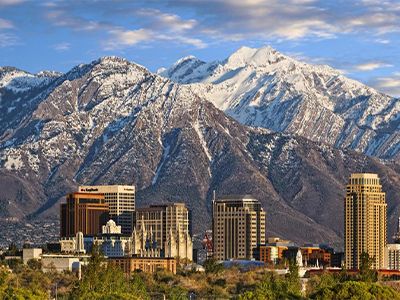 Photo Credit: Utah Office of Tourism
This blog was meant to be. I'm writing it on Veteran's Day, at the mouth of Utah's famous Cottonwood Canyons on the first day of the 2022 ski season, in a veteran-owned coffee shop that donates free coffee to troops all over the world.
Just 13 miles up Big Cottonwood Canyon, Solitude and Brighton resorts are hosting throngs of skiers and snowboarders on four and a half feet of the Greatest Snow on EarthTM.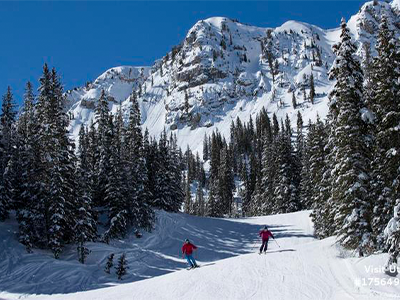 Solitude was one of the first resorts to open. Photo credit: Utah Office of Tourism.
Can it get any better? Yes. Above me are glistening snow-capped peaks jutting into a crystal-clear blue sky. The senses are full.
Gratitude is washing over me, because I'm so happy to be here to witness the whole thing. At 72, with a 50-year-old spinal cord injury slowly destroying my mobility, I'm grateful to have the independence to drive myself here.
What's more I plan to be in those mountains soon on an adaptive ski-bike with the help of Wasatch Adaptive Sports at Snowbird.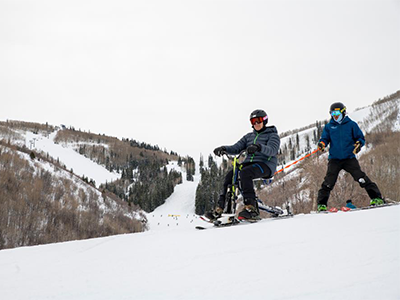 The ski-bike is my downhill choice
This glorious change of seasons in a year-round accessible playground is one of the big perks of living in Utah.
Just when we've had it with triple-digit heat and dry summer weather, along comes fall with cooler temperatures and blazing colors followed by thunderstorms and fast-moving Pacific storms that sweep across the valley, laden with lake-effect snowstorms.
Okay, that's the ideal and it doesn't always happen. But when it does happen, we need to be grateful.
We also need to be worried that global warming is affecting year-round temperatures and slowly destroying the Great Salt Lake as well as the polar ice caps. We need to join the efforts to slow—even stop global warming.
The change of seasons isn't unique to Utah, but our varied landscapes make the cool weather seasons extra special.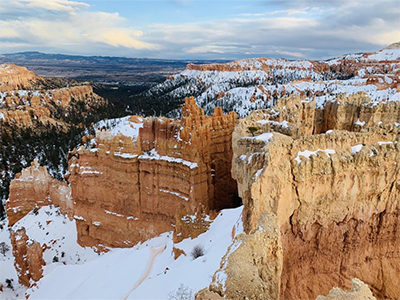 Bryce Canyon with a coat of frosting. Photo Credit: Utah Office of Tourism.
Southern Utah's red rock wonderland is even more stunning with a frosty coating of white. It's quieter, offering solitude as well as splendor.
For those fortunate enough to have the time, resources and transportation, a four-hour drive will put you in the heart of Utah's red rock country where you're likely to find a dusting of glistening white to dazzle you.
Check out this article from the Utah Office of Tourism for a sample.
If you live along the Wasatch Front, you're well aware of the transformation that occurs when the mountains put on their white coat.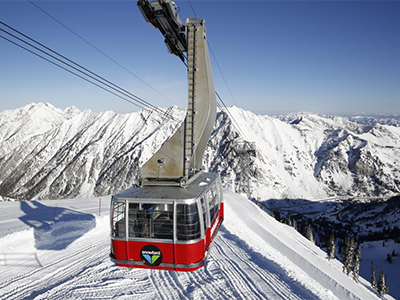 Snowbird is an international legend. Photo Credit: Utah Office of Tourism
Visitors from across the globe show up to slide down our slopes, leaving piles of money in their wake.
Yes, there are issues to be solved with our Cottonwood Canyons, but in my estimation, it's a good problem to have.
There's a good reason why the Salt Lake Chamber of Commerce initiated their "Ski City" campaign. It's quite literal and very true.
Denver can't come close. I know, because I lived there for two years. The "Rocky Mountain High" takes about two hours to get to. I can be at Snowbird in 20 minutes.
Yes, winter can be a pain, as in sliding down Fort Union Boulevard in an early morning snowstorm. (Hint: a good pair of snow tires will help with that.)
The antidote to that is another cup of coffee next to the picture window in our kitchen to marvel at the huge snowflakes.
I can also watch the UDOT snowplows fire up below me, as they head out to make the roads passable. A big thanks for that.
November 24th, add a thanks for the seasons to your Thanksgiving celebration. They help make life in Utah just a bit more special.