A World Record for the Ages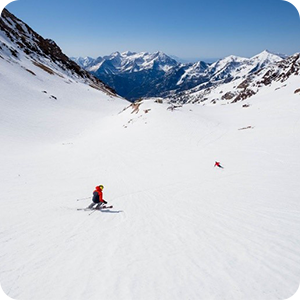 Age 95 years and 224 days, to be exact. That's the age of legendary Utah ski instructor Junior Bounous on April 5 when he entered the Guinness Book of World Records as the world's oldest heli-skier. He did it via a Powderbird Helicopter atop 11, 489-foot American Fork Twin Peaks, the highest point on the Little Cottonwood Canyon Ridge.
I'm amazed and yet not totally surprised that this skiing icon accomplished his remarkable feat. I had the rare privilege of making a few runs with Junior when I was a ski instructor in training at Beaver Mountain in 1970. He was about to become Snowbird's first Director of Skiing.
He made the trip up north that day with Alta Ski School Director Max Lundberg, Solitude Ski School Director Dean Roberts and Park City instructor Phil Jones. They were all examiners in the Intermountain Ski Instructors Association (ISIA). I was about to take my exam to become a certified ISIA instructor, but this day we were just out sampling some untracked powder at Beaver.
While all of the above could ski powder with grace and style, Junior made it an art form. He literally floated down the mountain with no visible effort. It was a joy to behold. I eventually became proficient in powder, but never approached his virtuosity. But very few ever did.
Unfortunately, my ski days ended a year later when I broke my neck, but my world continued to be influenced by the Bounous legacy. My daughter Erika learned to race at Snowbird under the tutelage of Junior's son, U.S. Ski Team member Steve Bounous, and my granddaughter Ellie continued the Snowbird racing tradition while Steve was still Director of the Snowbird Ski Team.
My lucky wife Jayne joined our friend Margaret Stephens Anderson for Junior's exclusive once a week ladies-only ski group at Snowbird. She also experienced Junior's gentle compassion as he coaxed her down Snowbird's steep and deep black diamond Regulator on a particularly powdery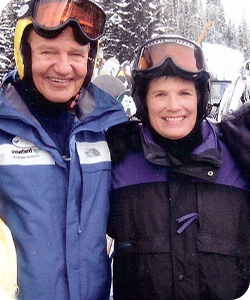 day. His skiing ability was matched by his humanity and humility.
To fully enjoy Junior's epic accomplishment, check out Lee Benson's excellent account in this Deseret News story.
Then, the next time you feel like you're too old to get out and enjoy Utah's natural playground, remember the Junior Bounous approach to life: just point 'em downhill and let 'em rip!
Junior Bounous and Margaret Stephens Anderson