International Travel "...while I still have my health."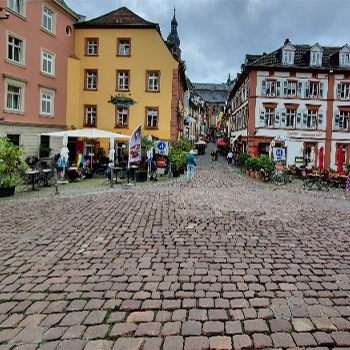 If you're retired or looking forward to the time when you will be, you've probably said there are things you want to do "while I still have my health." I've been retired for almost 12 years, and I'm still saying it. However, I recently learned that "We don't know what we don't know" can apply to the degree of physical health and stamina we still have, as well as to our mental abilities, especially when it comes to international travel.
Several times I've told my brothers, the VP of Sales for a leading Utah travel Agency, that I want him to plan a trip for me, to which he always replies, "Great! Just tell me where you want to go, and I'll do it." Then I reply, "I don't know where I want to go! I want you to pick a place and plan everything."
What follows are some things coming from this international travel adventure that were an epiphany as to my perhaps waning mental and physical abilities. Maybe you can relate.
Jetlag
My initial concerns were the 11-hour flights and the eight-hour time difference. I'd been to Denmark, England and Israel so long ago that I don't remember the dates, but I do remember how miserable it was flying coach, elbow to elbow with 350+ other people, and how I didn't get a wink of sleep. I feared that at my current age I would be too exhausted to make it through the first two days of touring the Netherlands before getting on the ship.
Some tips that are supposed to help overseas travelers sleep or be more comfortable on long plane ride includebringing a neck pillow and a blanket, drinking water instead of soda, wearing compression stockings to prevent blood clots, and getting up often(not easy unless you're in an aisle seat.) I knew from past experience that they don't help me much.
Preperation
I quickly discovered that "all planned" still required a lot of preparation on my part.I had an up-to-date passport, but that was just the first of a long list of things only I could do. For example, "Take 10-day's extra of all your prescriptions in their original bottles, in case you get stuck in Europe."What? I could get stuck there! Catching COVIDor having a flight canceled, seemed to be the main reasons this could happen, but who knows what else they were thinking. This was a bit unnerving!
I knew enough to pack my medications in my carryon bag so they wouldn't get lost or damaged. (FYI, I had to check that bag, too, due to "a full flight with not enough space in the overhead bins.")
In case you haven't traveled lately, also on the To-Do List were:
· Change money to Euros (Where? How much?),
· Register online with the cruise line (Some questions were tricky.),
· Upload copies of vaccination card and other documents (Do you know how to do that?)
· Buy a converter for anything you need to plug in (Curling irons not allowed on the ship.),
· Buy travel insurance (From the travel company or a private insurer?),
· Check with your mobile phone service company about packages that allow you to make calls and send and receive text messages overseas (If you get lost, you might need to call your guide),
· Inform your bank or credit card company when you will be traveling (If you don't, they might freeze your account.),
· Pack light (How is one supposed to do that when the weather could range from cold and raining to very hot and humid? I agonized over what to bring. For me "dress in layers" didn't help.)
Was I imagining it, or did it seem harder than on those other trips to keep all this straight and make sure it got done correctly? Somehow, I was ready, though not packed light, the morning of Monday, June 20th. We arrived in Amsterdam at 9:00 a.m. their time (1:00 a.m. MDT) on Tuesday! This was supposed to be a good thing, because it meant we could stay up all day and then be more than ready for bed that evening. Good advice for any international traveler, especially if there isn't even an opportunity for a nap. (When it was bedtime in our Brussels hotel, I was able to get about 6 hours of sleep.)
Physical Challenges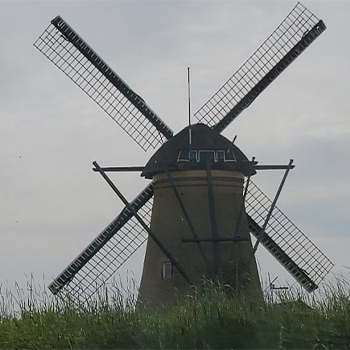 After a 4-hour wait in the Amsterdam Airport for the luggage of 6 group members to be found (Typical we were told--it had been sent to cargo.), we were bussed to the beginning point of a canal tour of the historic Windmills at Kinderdjik, Netherlands. This excursion required very little physical effort and provided spectacular views. It wasn't until we got off the boat to go inside a huge windmill that I got a taste of the physical perils to come.
The stairs going up were a very narrow width and steep. I only went to the first level, knowing that the scariest part would be going back down, which I somehow managed by going very slowly. I knew I shouldn't give in to social pressure to do more than I felt capable of. Even so, I still climbed the very narrow steps in the Ann Frank House later in the trip.
Wednesday (I was sure it was still Tuesday) was billed as a "full-day tour of the quaint towns of Bruges and Ghent, Belgium." What was left out of the description was that (according to those with step-counters) we would walk about eight miles over mostly cobblestoned streets. I did wear athletic "walking shoes," but what would have been safer and more comfortable was sturdy hiking boots! I spent a lot of time looking down when I wanted to look up. My advice—learn more about the terrain and the distance to be walked on shore excursions. One traveler was smart enough to bring hiking sticks.
Heat and Hydration
Did I mention that most days it was 84 degrees with what I'm guessing was about 90% humidity? I brought along one bottle of water but getting enough to drink and bathroom breaks not necessarily timed to my body's needs left me with swollen ankles and feeling quite dehydrated. Something else to consider when deciding if I am up to this type of travel again.
The Best (Easiest?) Parts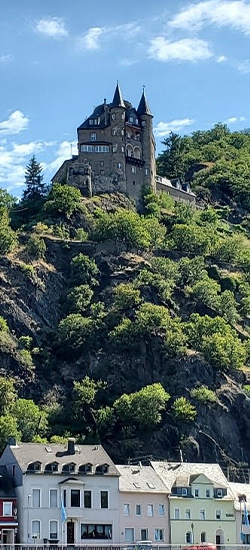 Lest you think I didn't enjoy this cruise or feel happy that I went, the parts that I enjoyed most and that might help me decide where to go on my next trip were:
· Sailing through the Rhine River Gorge and from the ship seeing the castles dotting the hills.
· Seeing historic Amsterdam from a boat on the canals.
· The cable car and cog rail trip up Mt. Rigi (even though it was raining).
· An hour-long tour boat trip across Lake Lucerne in Switzerland and the views of the shore.
· Going through the locks on the Rhine, inches away from the side and another ship.
· Bus rides through the lush countryside of Germany and Switzerland.
· The Mechanical Musical Instruments Museum in Rudesheim.
· The food on the ship—four-course gourmet meals, with presentation and service that matched the delicious choices.
You can probably deduce that my new idea of a perfect vacation is something a little less strenuous than this one turned out to be. Although most of the strain could probably be blamed on the heat, the cobblestones, and the many flights of stairs in buildings and even along the city streets.
After my return, I heard on the news that "anyone who travels this summer should expect to have some glitches, and if you don't, with your luck you should buy a lottery ticket."
That rang true for us when, due to mechanical difficulties, our flight from Zurich to San Francisco was 90 minutes late leaving and landed in SF at the same time as another 350+ passengers. It took two hours to get through customs, causing us to miss our connecting flight to Salt Lake City. To be fair, United quickly booked us into a nearby hotel and onto a plane at 8:00 the next morning. We were a day late—sort of—getting home, adding to my confusion over what day it was.
I hope to keep traveling "while I still have my health," but I've learned that could mean the destination might be someplace a little less tiring every year.